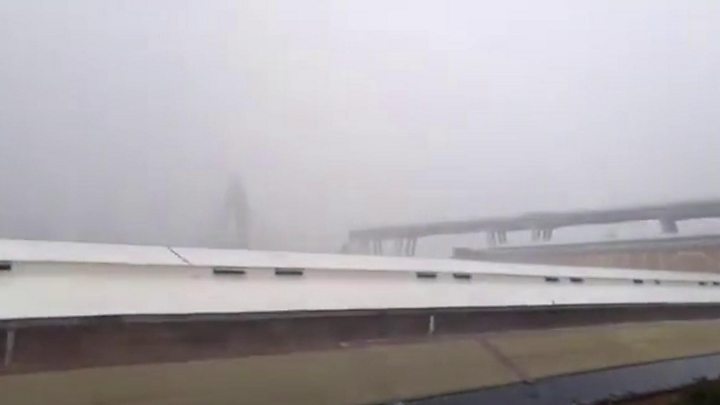 A motorway bridge has collapsed in the northwest Italian city of Genoa, killing at least 35 people as vehicles plummeted to the ground, emergency services say.
Dramatic video footage captured the moment of the disaster when one of the huge supporting towers crashed down during torrential rain.
Vehicles and debris fell 90m (295ft) on to rail tracks, buildings and a river.
Rescuers are trying to free people caught in crushed vehicles or rubble.
Some 200 firefighters are working at the scene, Interior Minister Matteo Salvini said.
Transport Minister Danilo Toninelli spoke of an "immense tragedy" and France offered Italy its support.
Shares in Atlantia, the toll road operator which runs much of the country's motorways, fell 6.3% after news of the collapse.
How did the structure collapse?
It fell around 11:30 local time (09:30 GMT) during heavy rain. Police reported a violent cloudburst.
"It was just after 11:30 when we saw lightning strike the bridge," eyewitness Pietro M all'Asa was quoted as saying by Italy's Ansa news agency. "And we saw the bridge going down."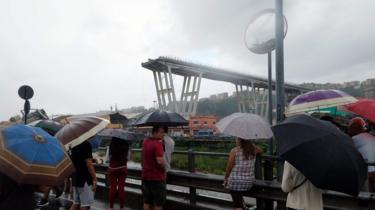 Another witness, unnamed, recalled: "We heard an incredible roar and first we thought it was thunder very close by.
"We live about 5km [three miles] from the bridge but we heard a crazy bang… We were very scared… Traffic went completely haywire and the city was paralysed."

One image posted by the regional emergency services shows a truck perched at the end of the surviving bridge
Ka Dhageyso War Dag Dag Ah Mobile-kaada 001 7127755624
TEL Maraykanka 7127755624
Fadlan Hadii aad u baahantahay Macluumaad dheeraad ah naga la soo Xiriira.
Email: dayniilewb@gmail.com
TEL 00252618895064