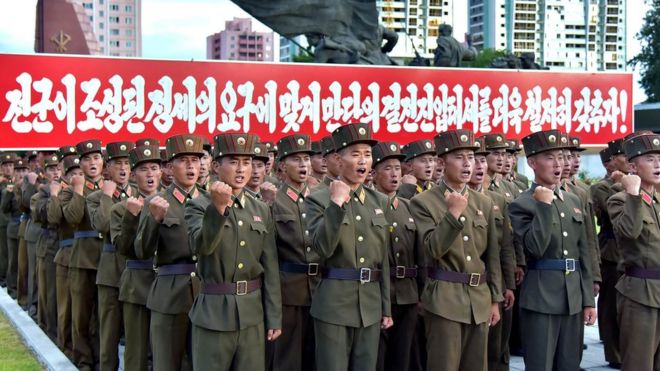 North Korean leader Kim Jong-un reviewed plans to fire missiles towards the US Pacific territory of Guam but will hold off, state media said.
Although prepared for "the enveloping fire at Guam", the North said it would watch what "the foolish Yankees" do before taking a decision.
Last week's threat against Guam escalated the sharp rhetoric being exchanged between the two sides.
This latest report points to a pause in the increasingly bitter war of words.
South Korea's President Moon Jae-in meanwhile has urged the US not to launch an attack on the Korean peninsula without its consent, saying "no one may decide to take military action without the consent" of the South.
What does North Korea's statement really mean?
The report on state news agency KCNA said Kim Jong-un "examined the plan for a long time" and discussed it with senior military officials.
The commander of North Korea's strategic force was now merely waiting for orders "after rounding off the preparations for the enveloping fire at Guam".
But, crucially, the report also said that Mr Kim would watch the US before making any decision, signalling an apparent deceleration in the provocative rhetoric.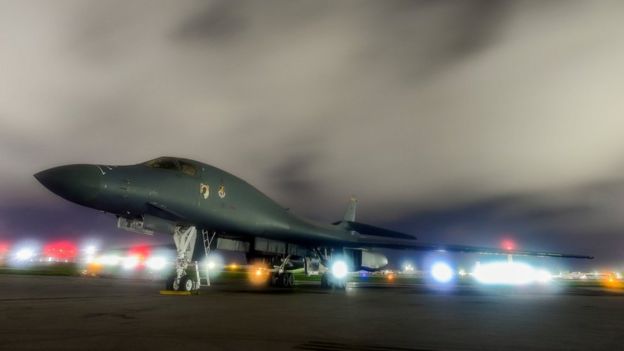 The BBC's Yogita Limaye in Seoul points out that the latest commentary talks of how to "defuse the tensions and prevent dangerous military conflict".
Our correspondent adds that after days of menacing threats it might seem that Kim Jong-un could be in the mood to finally hit the pause button – but in a nation as secretive as North Korea, one can never be sure.
Analysts say it could simply mean Pyongyang is not fully ready to launch an attack on Guam, so it could just be buying more time.
What are North Korea's neighbours saying?
South Korea and China – North Korea's closest ally – have been urging calm and a renewed push for diplomatic resolutions.
On Tuesday South Korean President Moon Jae-in said the US should not act unilaterally on the Korean peninsula.
The two countries' longstanding defence agreement states that they must "consult together" when either is threatened by an external armed attack.
The K-pop concert seeking to broker Korean peace
China imposes N Korea imports ban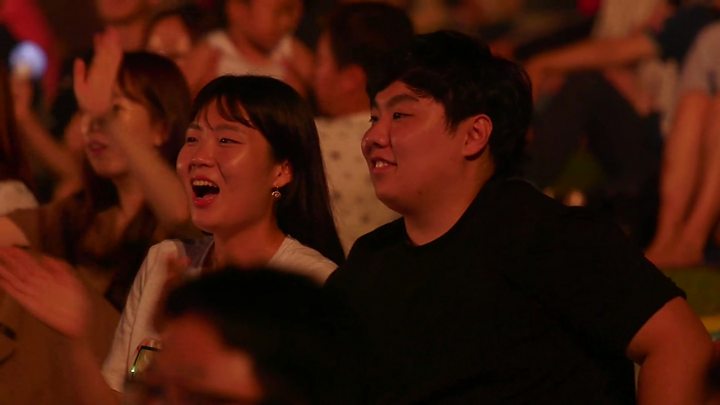 China's foreign ministry on Monday reiterated its "suspension for suspension proposal" where North Korea stops its missile tests in exchange for a freeze on military exercises by the US and South Korea.
Chinese state media outlet Global Times also urged South Korea to "act as a buffer" between the North and the US, arguing that China has less influence over Pyongyang than South Korea has on the US.
What is the latest comment from the US?
Defence Secretary James Mattis earlier warned that any attack could quickly escalate into war, and if Pyongyang fired a missile towards Guam, "then it's game on."
He told reporters that the US military would defend the country "from any attack, at any time and from any quarter".
He also sought to reassure residents of Guam, home to US military bases and about 160,000 people, that they were well-protected and if a missile was fired, "we'll take it out".
North Korea threats unsettle Guam islanders
---
The tiny but important island of Guam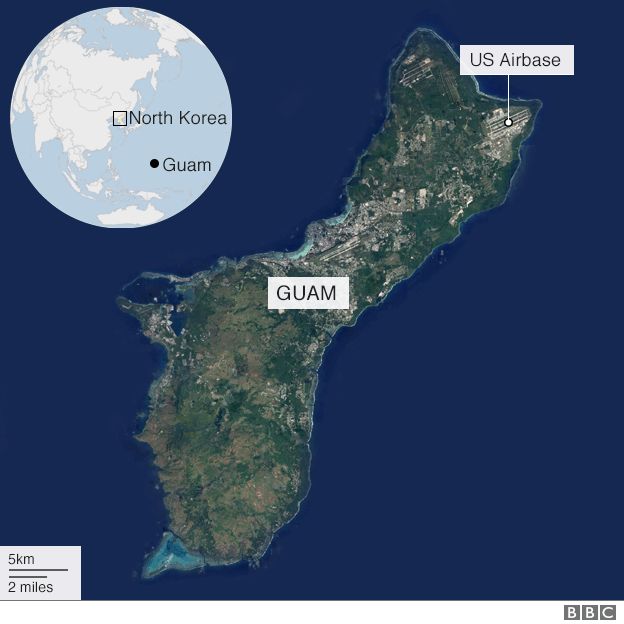 The 541sq km (209 sq miles) volcanic and coral island in the Pacific between the Philippines and Hawaii.
It is a "non-incorporated" US territory, with a population of about 163,000.
That means people born in Guam are US citizens, have an elected governor and House Representative, but cannot vote for a president in US national elections.
US military bases cover about a quarter of the island. About 6,000 personnel are based there and there are plans to move in thousands more.
It was a key US base in World War Two, and remains a vital staging post for US operations, giving access to potential flashpoints like the South China Sea, the Koreas and the Taiwan Straits.
Guam profile from BBC Monitoring
---
How did tensions escalate so rapidly?
Over the past year North Korea has stepped up its missile tests, despite repeated warnings from all quarters.
The state had already conducted five nuclear tests, but then in July it launched two intercontinental ballistic missiles (ICBMs) claiming it now had the ability to hit the US mainland.
The UN then approved fresh economic sanctions against North Korea to pressure it into giving up its nuclear ambitions. The measures aim to reduce North Korea's export revenues by a third.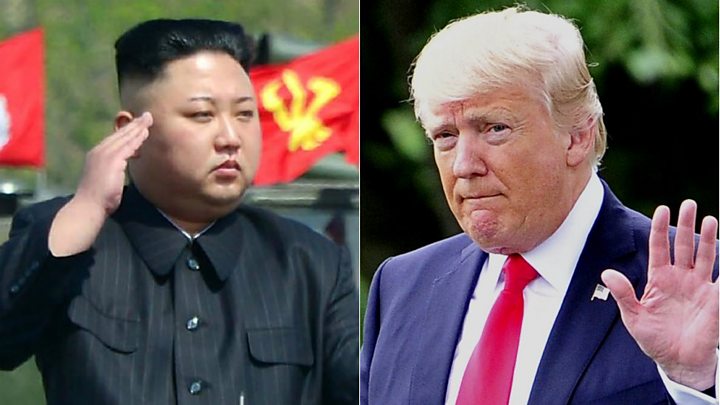 Pyongyang reacted furiously to the new sanctions, calling them a "violent violation of our sovereignty" and warning that the US would "pay a price".
Last week, US media reported that North Korea had achieved its goal of making a nuclear warhead small enough to fit inside its missiles.
Although not confirmed, this was seen as North Korea overcoming a final obstacle to becoming a fully nuclear-armed state.
It prompted US President Donald Trump to threaten Pyongyang with "fire and fury" if it continued to threaten the US and its allies, saying the US nuclear arsenal was "more powerful than ever before" and "locked and loaded".